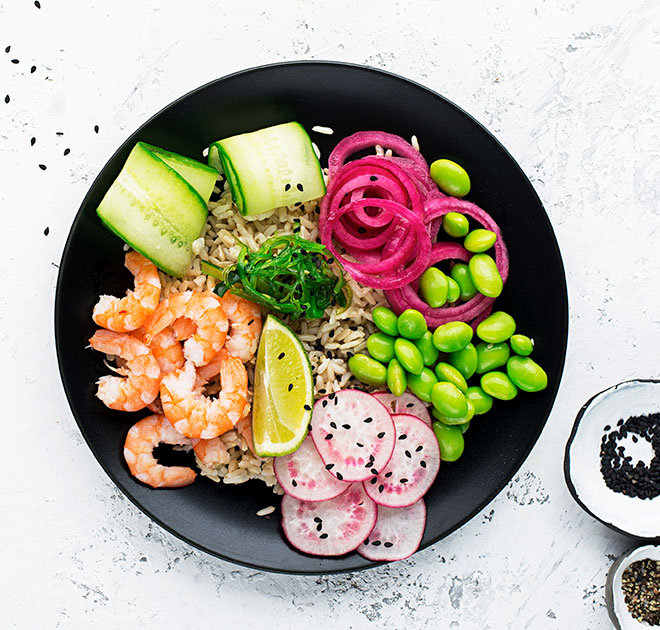 Hawaiian Prawn Poke Bowl
An easy-to-make meal, combining light seafood flavours with fresh veggies and a hint of zest.
Ingredients
1 cup brown rice
1/4 cup rice wine vinegar
3 tsp caster sugar
1 tbs olive oil
20 raw prawns, peeled and deveined
1/4 cup lemon juice
1 tsp sesame oil
1 tsp honey
1 tsp grated ginger
1/2 cup pickled red onion slices
1 continental cucumber, shaved into ribbons
1/2 cup radish, thinly sliced
1 cup edamame beans, cooked
1/4 cup seaweed salad
1 tsp sesame seeds
Lemon wedges to serve
Cooking Method
Step 1
Cook brown rice as per packet instructions. Dissolve sugar in rice wine vinegar and mix through the rice.
Step 2
Heat olive oil on a medium heat and pan-fry prawns for 4 minutes, or until cooked through.
Step 3
Combine the lemon juice, sesame oil, honey, and ginger. Add the cooked prawns and marinate for 10 minutes.
Step 4
Spoon rice into bowls. Top with prawns, pickled red onion slices, cucumber ribbons, radish, edamame beans and seaweed.
Step 5
Sprinkle sesame seeds and serve with lemon wedges.