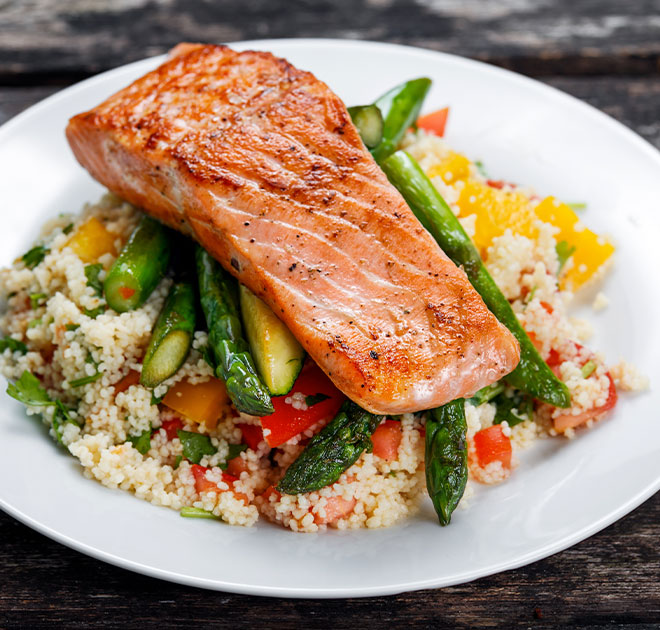 Moroccan Salmon with Spiced Couscous
Tender salmon fillets on a bed of aromatic spiced couscous.
Ingredients
1 Tablespoon Moroccan Seasoning
4 x 200g Atlantic Salmon Portions, Skin On
1 Tablespoon Olive Oil
1 ½ Cups Couscous
1 ½ Cups Boiling Chicken Stock
¼ Cup Slivered Almonds, Toasted
1 Teaspoon Ground Cumin
2 Tomatoes, Flesh Diced
2 Tablespoon Chopped Coriander
200g Natural Yoghurt
2 Tablespoon Chopped Mint Leaves
Zest of 1 Lemon
1 Bundle Asparagus
Cooking Method
Step 1
Preheat oven to 180°c. Sprinkle Moroccan seasoning onto Salmon. Heat olive oil in a frypan over medium heat. Sear Salmon for 2-3 minutes each side. Line a tray with baking paper and cook in oven for 5-6 minutes or till cooked to your liking. After removing Salmon putting your asparagus into the frypan for 1 minute.
Step 2
Combine couscous and boiling stock into a heat proof bowl, cover with plastic wrap and set aside for 5 minutes. Remove plastic wrap and fluff with a fork till grains separate. Add almonds, cumin, tomatoes, lemon zest and coriander, stir to combine. Combine yoghurt and mint.
Step 3
Serve Salmon with spiced couscous and asparagus.