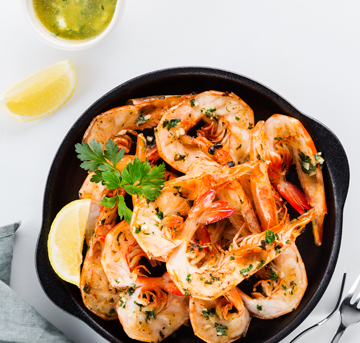 Prawns with Garlic Parsley Butter
Moderate
Ingredients
24 KB Australian Prawns
180g butter, softened
2 tablespoons finely chopped parsley
4 cloves garlic, finely chopped
Zest of 1 lemon
Sea salt
Black pepper
Olive oil for brushing
Lemon
Cooking Method
Step 1
Place the butter, parsley, garlic, lemon zest, salt and pepper in a bowl and mix until well combined.
Step 2
Pre-heat oven to 180oC.
Step 3
Using a sharp knife, split prawns in half lengthwise. Wash and dry the heads. Place prawn halves, shell side down on a baking paper. Drizzle with oil and season with salt and pepper.
Step 4
Pre-heat pan on high heat. Place prawns flesh side down on the hottest part of the pan and cook for 1-2 minutes or until slightly charred.
Step 5
Remove prawns and place onto a baking tray, spoon over the garlic parsley butter.
Step 6
Place under grill and cook for 2-3 minutes or until golden and cooked through. Serve with extra garlic butter and lemon.