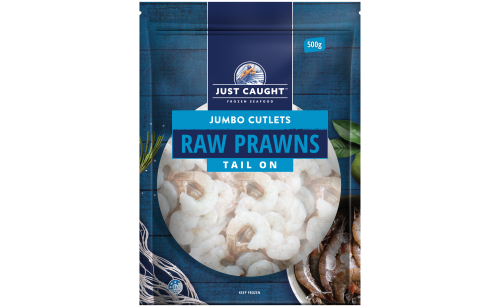 Just Caught Raw Jumbo Prawn Cutlets
Country of Origin
Product of Vietnam
Species
Litopenaeus vannamei
Servings per package: 5
Serving size: 100g
| | | |
| --- | --- | --- |
| | Quantity per Serving | Quantity per 100g |
| Energy | 222kJ (53 Cal) | 222kJ (53 Cal) |
| Protein | 11.9g | 11.9g |
| Fat, Total | Less than 1g | Less than 1g |
| - Saturated | Less than 1g | Less than 1g |
| Carbohydrate | Less than 1g | Less than 1g |
| - Sugars | Less than 1g | Less than 1g |
| Sodium | 596mg | 596mg |
This product must be fully cooked before consumption. Thaw prior to consumption. Consume within 48 hours of thawing.
Natural Thaw Method:
Place frozen raw prawns into a strainer and rinse with cold running water for approximately 5 - 7 minutes. Whilst rinsing, lightly rotate the prawns to ensure even thawing. Let drain for minutes. Prawns are now ready to cook. Cover prawns and refrigerate until cooking.
Boil:
Bring salted water to the boil. Once boiling, add thawed prawns. Simmer for approximately 2 minutes. When prawns turn orange and become opaque inside, immediately remove from the boiling water and rinse with cold water to remove latent heat. Serve prawns chilled.
Saute:
Melt butter in frypan. Add thawed raw prawns and saute for 2 minutes with seasonings such as; salt, pepper, garlic, parsley, lemon & white wine.
NOTE: Cooking temperatures and times are provided as a guide, please adjust if necessary.
Prawn (99%) (Litopenaeus vannamei), Mineral Salt (451, 452), Salt.