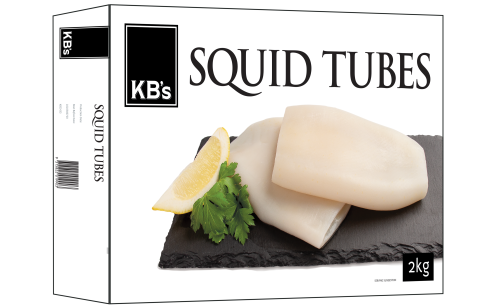 KB's Squid Tubes
Fall in love with the taste of our tender squid tubes, a versatile ingredient that can be used in a variety of dishes, from stir-fries to pasta. An easy and convenient way to add a touch of the ocean's bounty to your meals.
Grill
Country of Origin
Made in China from imported ingredients
Servings per package: 15
Serving size: 100g
| | | |
| --- | --- | --- |
| | Quantity per Serving | Quantity per 100g |
| Energy | 325kJ (78Cal) | 325kJ (78Cal) |
| Protein | 17.1g | 17.1g |
| Fat, Total | Less than 1g | Less than 1g |
| - Saturated | Less than 1g | Less than 1g |
| Carbohydrate | 1.8g | 1.8g |
| - Sugars | Less than 1g | Less than 1g |
| Sodium | 248mg | 248mg |
Cooking Instructions
Grilled Squid Tubes
Ingredients:
4-6 fresh squid tubes, cleaned and prepared
2 tbsp olive oil
1 tbsp lemon juice
1 tbsp soy sauce
2 cloves garlic, minced
1 tsp paprika
1/2 tsp salt
1/4 tsp black pepper
Lemon wedges, for serving
Instructions
Preheat your grill to medium-high heat.
In a small bowl, whisk together the olive oil, lemon juice, soy sauce, garlic, paprika, salt, and black pepper.
Pat the squid tubes dry with paper towels and then brush them with the marinade.
Place the squid tubes on the grill and cook for 2-3 minutes per side, until charred and cooked through.
Remove the squid tubes from the grill and let me rest for a few minutes before slicing them into rings.
Serve the grill squid rings with lemon wedges and enjoy!
This recipe is simple and quick, but it's packed with flavour. The marinade gives the squid a tangy, smoky taste that pairs perfectly with the tender texture of the grilled squid. You can serve this dish as an appetizer or as part of a main course with a side salad or vegetables. Enjoy!
Gigas Squid (Mollusc) (Dosidicus gigas) (99%), Acidity regulator (330, 331).
Contains Mollusc.
May Contain Fish, Crustacean.