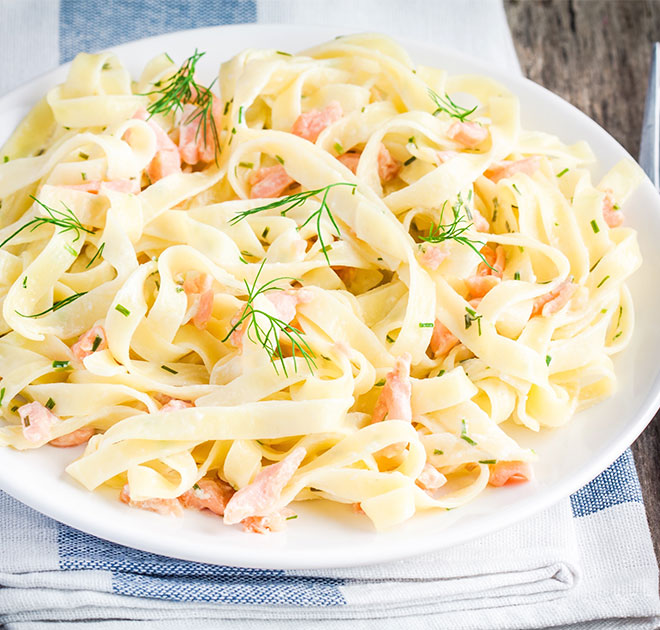 Fettuccine, Salmon, Lemon & Chilli
Hearty fettuccini with zesty citrus and a touch of heat
Ingredients
3 x 200g Atlantic Salmon Portions, Skin Off
400g Fettuccine
¼ Cup Olive Oil
2 Cloves Garlic, Crushed
1 Small Red Chilli, Deseeded, Finely Chopped
¾ Cup Fresh Breadcrumbs
1 Leek, Washed and Sliced
½ Cup Chicken Stock
1 Tablespoon Butter
2 Tablespoon Lemon Juice
Cooking Method
Step 1
Boil fettuccine for 10 minutes or as directed on the packet, drain.
Step 2
Meanwhile, heat 3 tablespoons of olive oil in a small fry pan over medium/high heat, add garlic and chilli and cook for 30 seconds. Add breadcrumbs and fry, stirring for 5-6 minutes until crispy and golden. Set aside.
Step 3
Heat remaining oil in a frypan over medium high heat, cook Salmon portions for 5-6 minutes each side. Remove from pan, rest and flake with a fork. Add leeks to same pan and cook for 3-4 minutes till softened. Add chicken stock, butter and stir till butter is melted. Remove from heat and add lemon juice, Salmon and fettuccine, toss to combine.
Step 4
Serve fettuccine with bread crumb topping sprinkled on top.