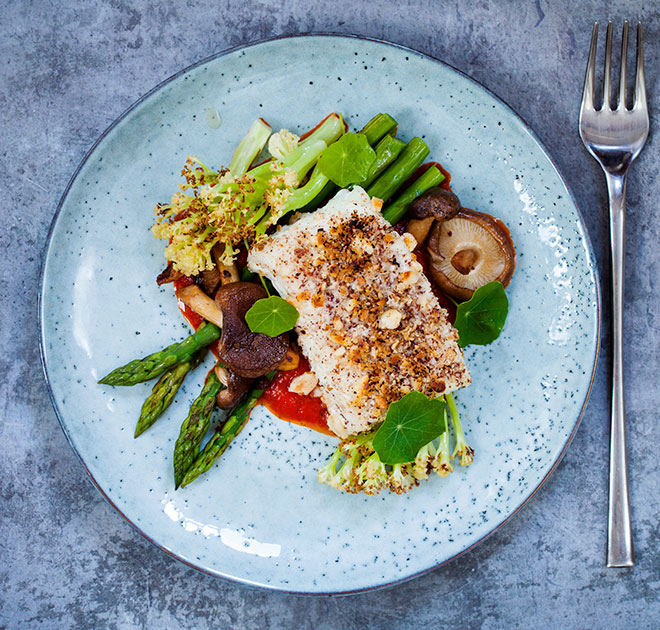 Hazelnut-Crusted Snapper with Roast Pepper Sauce, asparagus, cauliflower and shiitake mushrooms
Combines fresh ocean flavours with the earthy taste of shiitake mushrooms.
Ingredients
3/4 cup hazelnuts, shelled, roasted and chopped
1/4 cup breadcrumbs
1/2 tsp ground coriander
1/4 tsp ground cumin
2 eggs, beaten
1 cup flour
Salt and Pepper to taste
4 x 110-125g snapper fillets
2 tbs olive oil
1/2 medium onion, chopped
2 tbs garlic, minced
1/2 tsp chilli powder
1 cup roasted red peppers, chopped
1 cup cooking cream
Steamed cauliflower, asparagus and shiitake mushrooms, to serve
Cooking Method
Step 1
Mix chopped nuts with the breadcrumbs, coriander and cumin and spread mixture on a plate. Place eggs in a bowl. Combine flour, salt and pepper in a separate bowl. Dip fish pieces in the flour mixture, shake off excess, then dip into eggs. Press the fish into the crumbs to coat. Refrigerate for half an hour until ready to cook.
Step 2
Heat 1 tbs oil in a medium-sized pan over medium-high heat and sauté onions 2-3 minutes, until translucent. Add garlic and chilli powder and sauté for 1 minute.
Step 3
Add roasted red peppers and cream and simmer for 5 minutes. Remove from heat and puree sauce with a hand blender and set aside.
Step 4
Heat 1 tbs oil in large fry-pan over medium-high and cook coated fish fillets for 3-4 minutes each side, or until fish is cooked through and crust is browned.
Step 5
Spoon warmed sauce onto plates, assemble steamed vegetables and top with fish.