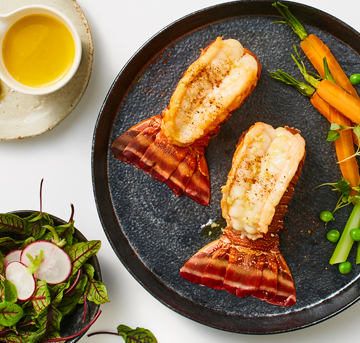 Lobster Tails with Garlic Butter
Moderate
Ingredients
6 KB lobster tails
5 tablespoons butter
1/2 teaspoons minced garlic
1/4 teaspoon paprika
1/4 teaspoon salt
Lemon
Cooking Method
Step 1
Place lobster tails on a cutting board. Take scissors and cut down the shell all the way to the fin.
Step 2
Use your fingers and pry the meat up from the shell, gently. Keep the meat attached to the base of the tail, then lift the meat so it's resting on top of the split shell.
Step 3
Preheat oven to 200oC. Cover a tray with baking paper and arrange lobster tails on the tray.
Step 4
Place the butter, garlic, paprika and salt in a small bowl. Microwave in 20 second increments until butter is melted. Stir to combine.
Step 5
Drizzle half of the butter mixture over the lobster tails.
Step 6
Place in the oven for 10 minutes or until lobster meat is opaque.
Step 7
Mircowave the reserved butter mixture for 10-20 seconds to warm it back up. Brush the butter over the cooked lobster.
Step 8
Squeeze lemon over the lobster tails and serve.