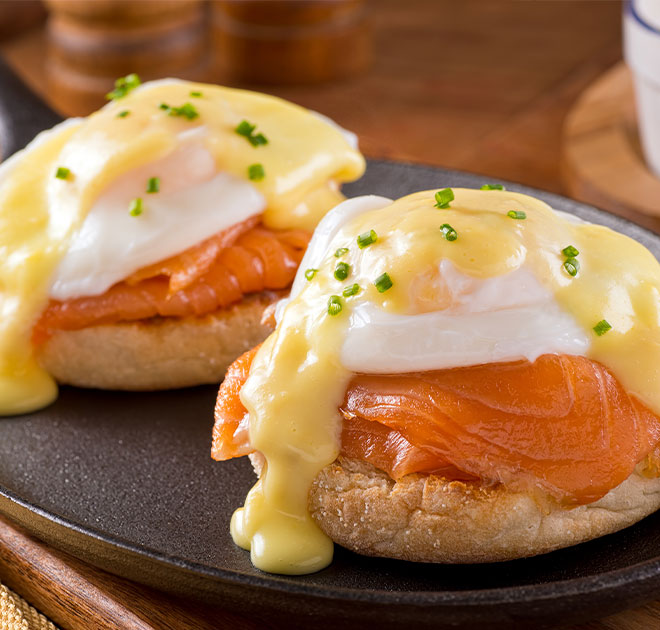 Smoked Salmon Eggs Benedict
Fresh smoked salmon with eggs and a rich benedict sauce.
Ingredients
400g Smoked Atlantic Salmon Slices
500g Cherry Tomatoes
2 Tablespoons Olive Oil
4 Egg Yolks
2 Tablespoons White Vinegar
250g Butter, Melted
8 Eggs
1 Tablespoon White Vinegar
4 English Muffins, Toasted
2 Tablespoons Chopped Parsley
Cooking Method
Step 1
Heat oven to 180°c. Place tomatoes on a tray and drizzle with olive oil, season with sea salt and cracked pepper. Roast for 15-20 minutes, till split.
Step 2
Meanwhile combine egg yolks with vinegar in a heat proof bowl and whisk over barely simmering water for 1-2 minutes till thick and fluffy (do not allow the bowl to touch the water). Remove from heat and gradually pour in butter, whisking constantly, add a little hot water if hollandaise becomes too thick. Season with sea salt and white pepper.
Step 3
Poach eggs 2 at a time in simmering water with vinegar for 2-3 minutes (for soft boiled) or till cooked to your liking. Remove with a slotted spoon. Place Smoked onto toasted sour dough and top with egg, spoon over sauce and sprinkle with chopped parsley, serve with roasted tomatoes. Repeat with remaining eggs.