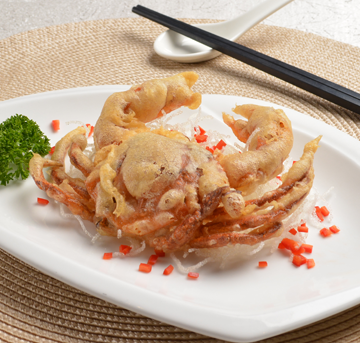 Soft Shell Crab Deep Fried
Easy
Ingredients
8 soft shell crabs, thawed, cleaned
2 egg whites
1 cup plain flour
1 cup cornflour
1 tablespoon salt
1 tablespoon white pepper
1 teaspoon cayenne pepper
1 teaspoon ground coriander
1 teaspoon ground turmeric
vegetable oil, for deep frying
Cooking Method
Step 1
Heat oil in deep fryer to 180oC.
Step 2
Place egg whites in a medium bowl and whisk until foamy. Dry the crabs with paper towel and toss with the egg whites until thoroughly coated.
Step 3
In another bowl, whisk together flour, cornflour, salt, pepper, cayenne, coriander and turmeric.
Step 4
Cover the crabs in the flour mixture and place into the hot oil. Fry, turning, until golden brown and crisp, about 4 minutes.
Step 5
Remove from the oil and place onto a tray lined with paper towel. Serve.