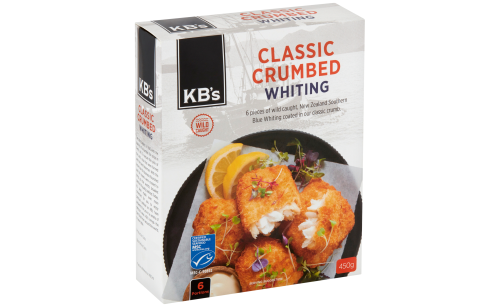 KB's Classic Crumbed Whiting
Delicious Classic Crumbed Southern Blue Whiting
Oven Bake
Country of Origin
Made in China with wild caught Southern Blue Whiting from New Zealand
Species
Mircomesistus Australis
Key Features
MSC Certified
Servings per package: 6
Serving size: 75g
| | | |
| --- | --- | --- |
| | Quantity per Serving | Quantity per 100g |
| Energy | 570kJ | 760kJ |
| Protein | 8.6g | 11.4g |
| Fat, Total | 5.3g | 7.1g |
| - Saturated | 1.0g | 1.3g |
| Carbohydrate | 12.5g | 16.6g |
| - Sugars | 2.3g | 3.0g |
| Sodium | 323mg | 431mg |
Oven Bake
Preheat oven to 210oC fan forced.
Remove product from packaging and place on a lined baking tray.
Cook from frozen for 20-25 minutes, turning half way through.
Air Fry
Remove product from packaging and place in the air fryer in a single layer.
Cook product for 10-12 minutes at 180oC, until golden and thoroughly cooked.
Cook from frozen, product must be thoroughly cooked prior to consumption.
Southern Blue Whiting [(50%) (Micromesistus australis), Marinade (Sugar, Spices and Spice Extract (Celery, Garlic, Onion, Pepper), Salt, Rice Flour, Yeast Extract, Acidity Regulator (330), Flavouring (Celery))], Crumb (Wheat Flour, Soybean Oil, Water, Corn Starch, Shortening (Rice Bran Oil), Salt, Sugar, Raising Agents (450, 500), Yeast, Thickener (1420), Bread Improver (Amylase (1100)).
Contains: Fish, Soy, Wheat, Gluten.
May contain: Crustacean, Mollusc.